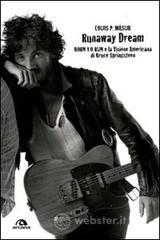 Born to run.
Un libro su born to run, che se qualcuno fosse appena sceso da marte ricordo essere un disco di bruce springsteen del 1975.
IL disco.
Di cui ho:
il cd
il cd col libretto con 3\4 foto aggiunte
il cd del 10° anniversario edizione americana
il cd dell'edizione giapponese
il cd dell'edizione uscita con un giornale spagnolo con libro in spagnolo
il cd dell'edizione uscita con un giornale italiano
il cd singolo
il vinile
il vinile remastered 200 grammi
il vinile dove invece che Jon Landau c'è scritto John Landau
il vinile greco
il vinile israeliano
il vinile argentino
il vinile italiano con l'adesivo scritto in italiano
il vinile italiano col poster in omaggio
il vinile "not for sale"
il picture disc
il 45 giri
l'edizione rimasterizzata del 2005
spartiti per pianoforte (che ovviamente non suono)
libro fotografico
spilletta
di cui ho la maglietta con su la copertina, che mia moglie, che di solito sclera per le mie manie ha scelto PERSONALMENTE di indossare in sala parto quando è nata virginia, che ovviamente non è stata più lavata ed è li coi chiari segni di un parto impressi tra la barba di bruce ed il faccione di clarence.
Uno disco di cui ho scritto giusto quelle due righe.
Tipo
queste
e
queste
oppure
queste
insomma, per me è IL disco e lo dico consapevole che lo springsteeniano medio è in pieno (e giustificato) trip da Megasuperextradeluxedition di Darkness on the edge of town
Cosa può dirmi ANCORA un libro su "IL disco"?
Considerato che io ritengo il filone dei libri su springsteen abbondantemente satollo di libri non propriamente indispensabili (MA mai satollo come il filone di libri sui fans di springsteen... ma lasciamo perdere) al punto che l'unico che dovrebbe uscire è quello scritto da bruce medesimo E POI BAAAAAAAAAAAAAAAAASTA, ho iniziato questo libro senza grosse aspettative, se non il piacere di averlo ricevuto in regalo da amici (ed un libro regalato si legge SEMPRE figurarsi poi un libro su "IL disco").
Invece
invece, vuoi che "IL disco" è un argomento di cui credo non mi stancherò mai, vuoi che l'autore scrive bene, semplice, con qualche 'neddoto interessante, vuoi che ok sono tutte cose dette e ridette ma NON FANNO MAI MALE, beh alla fine nei 3 giorni che ci ho impiegato, il libro (accompagnato dall'ascolto de "IL disco" in cuffia, bell'esperimento) è riuscito ad emozionarmi.
E se ormai non faccio più caso ai lucciconi ogni volta che ascolto Thunder road o alla pelle d'oca che si alza durante Jungleland o al piedino che si agita in She's the one, beh che un libro riuscisse ad emozionarmi anche se poi diceva cose quasi tutte già note è stata una bella sorpresa.
Lo scrittore ha tra l'altro anche un paio di approcci ai testi molto interessanti, che mi hanno fatto dare una lettura se non altro più completa di quello che a mio avviso rimane tutt'oggi il disco più bello della storia del rock.